OTHER EVENTS
Our guest lecture series, Hurukoro details can be seen in the table below.
Sr. No.

Topic Name

Dates

1

Insights on Large scale Software Developments Approach in Fintech by Mr. Ankur Jalan, Senior engineering manager, Fintech


3/19/2022

2

Python and its future applications by Mr. Murari Ramuka, Data Leader, Google


3/19/2022

3

Databases and its future opportunities by Mr. Yogesh Joshi, Senior Data Engineer, JashDS


3/17/2022

4

Recent trends in DW world by Ms. Priyanka Joshi, Consultant, ATOS


3/11/2022

5

BCA Career guidance by Dr. Dhanya Pramod, Dean, Faculty of Computer Studies and Director of Symbiosis Centre for Information Technology (SCIT)


2/22/2022

6

Data Analytics by Mr. Vaibhav Gade, Data Scientist, NVIDIA


1/27/2022

7

Enterprise Resource Planning by Ms. Nida S., Business Partner, Renee International Wingz (Education, Visa & Immigration Firm)


1/13/2022

8

Innovative HR practices and tools by Mr. Ankush Ghokhe, HR and Talent Management Team, Xoriant Corporation


1/9/2022

9

Investor Education Program (IEP) on Capital Market Awareness by Mr. Pankaj Mathkar, Owner of Laxmi Memorial Charitable Trust (LMCT)


12/15/2021

10

Entrepreneurship Development by Ms. Anamika Tiwari, Owner of Laxmi Memorial Charitable Trust (LMCT)


12/10/2021

11

Best Programming Practice, by Mr. Prathamesh Lahande, Teaching Associate, SICSR


12/7/2021

12

AI and Cloud adoption in financial services industry, by Mr. Prasad Dalvi, Vice President, Credit Suisse


10/22/2021

13

SICSR organized a Workshop on How to face Campus Interviews in association with Accolite Digital Session by Alumnus Mr. Priyank Kapadia


6/16/2021

14

Miss Nida Khalid Saiyed, an Alumni of SICSR
Topic: Adaptability and flexibility: The need of the hour


5/21/2021

15

Techniques on how to write a structured report for businesses by giving various examples and providing step by step personal insights on how to structure a report for a business use by Mr. Deekshith Suryadevara


4/3/2021

16

Business Analyst Role in Agile and its scope by Ms. Shatakshi Swaroop


3/27/2021

17

Emerging Technologies and Data Science & Analytics by Ms. Atiya Hassan


2/24/2021

18

BSE – Capital Market Awareness

11/4/2020

19

IT Risk

9/19/2020

20

What Companies Expect from Candidates

9/11/2020

21

Advanced Business Process Integration – SAP ERP

11/9/2020

22

Research Methodology and Writing Research Article by Dr. Ajit Ghodke, Neosoft Institute, China

9/9/2020

23

Masterclass on Digital Marketing by Mr. Rahul Gadekar

9/7/2020

24

Data warehousing and visualization using R

8/29/2020

25

Advance Business Process Intigration – MS Dynamics CRM365 by Mr. Ganesh Kulkarni

8/29/2020

26

Preparing for Technical Interviews

8/29/2020

27

Hurukuro Lecture Series-Lecture on Blockchain by TCS

8/29/2020

28

Impact of testing on product based companies

8/29/2020

29

Introduction to Internet of Things

8/28/2020

30

Research Methodology – Data Collection

8/28/2020

31

Current trends and career opportunities in Java

8/28/2020

32

Importance of security features of Java.

8/28/2020

33

How to be a Change Leader for Self Growth

8/8/2020

34

Technology shift and changing landscape post COVID times

8/1/2020

35

Introduction to Internet of Things

7/31/2020
International Women's Day Walkathon 2021
The women staff of SICSR participated in a 3km virtual Walkathon using different step counter apps, on March 8, 2021. The year's theme was 'Choose to Challenge', which was a call to action to challenge the status quo by raising awareness against bias, celebrating women's achievements, and taking action for equality.
Armed Forces Flag Day
SICSR celebrated Armed forces Flag Day on December 07 2020 to salute the martyrs, honor the brave, express solidarity, and support the welfare of war veterans. The highlight of the event was the speech given by the Chief Guest on the importance of Armed forces Flag Day, the need to support our armed forces, and how we can contribute to the Armed forces fund.
Constitution Day Celebration
SICSR Celebrated Constitution Day 2020 on November 26 2020 to commemorate the adoption of the Constitution of India. A Debate Competition was hosted by the Orators Club to provide a platform for public speaking to all the students.
Jan Andolan Campaign 2020
A Pledge was taken by the faculties and students on October 14 2020 to publicize message related to "Jan Andolan Campaign" for Covid-19 appropriate behavior.
Word Mental Health Day 2020
To spread awareness about the stigmatized and understated concept of Mental Health in our society, an "Open Mic" was organized where the students shared their thoughts and asked questions to the guest speaker Ms. Roshini Singh. Ms. Roshini Singh, a social influencer who has taken an active role in talking about mental health on various social media platforms.
Teachers' Day 2020
Teachers and students participated in the celebration in virtual mode, where they shared their experiences, poems and articles along with remembering former President of India, Dr. Radha Kirshanan who also had served as teacher in India and at Oxford University in the United Kingdom, known for his work on comparative religion, comparative Eastern and Western philosophy.
Gender Sensitisation and Awareness
A virtual workshop on gender sensitisation and awareness was held on August 29, 2020 for students. It included a short movie screening on gender sensitisation, and introduction to the gender champions of the institute. The gender champions interacted with the students and informed them about their role. The session concluded with a question and answer session.
Marathi Bhasha Gaurav Din 2020
At Symbiosis Institute of Computer Studies and Research, the Marathi Bhasha Gaurav Din was celebrated on 27th Feb 2020. All the teaching and non-teaching staff members along with the students were invited to attend the program.
Ganesh Utsav 2019
Ganesh festival was celebrated at the institute for 5 days. It started with the Ganpati Sthapana and ended with visarjan. Aarti was carried out twice for five days aarti. This was attended by students, faculty members and staff of SICSR.
Navratri 2019
An awareness campaign about the go green initiative was held during the Navratri celebrations at the institute. The staff members were dressed in green to support the campaign. The session was conducted by Dr.Sarika Sharma at the entrance parking area of the institute. She spoke about the green initiatives and activities being conducted at the institute. The faculty members gave many valuable suggestions, which were well taken.
Swachchta hi Sewa 2019
To celebrate Gandhi Jayanti, 'Swachhata Hi Sewa Campaign' was initiated by the Government of India to spread awareness about eliminating the use of plastic waste. SICSR volunteers walked around Model Colony to perform 'Shramdaan' and pick up plastic waste. Waste was mainly collected from Firodia Park. The waste was collected in jute bags and was brought to the parking space at SICSR.
Teachers' Day 2019
Teacher's day was celebrated at SICSR to give tribute to our late president Dr. S Radhakrishanan, who was a great teacher. Students of SICSR arranged a programme for teachers with cultural programmes, fun games for teachers, and cake cutting. It was attended by students, faculty members and administrative staff of SICSR.
Orientation For Model United Nations Conference (Orators' Club)
To brief the first time delegates about all the proceedings of a Model United Nations conference and all the queries regarding the same were addressed in the session, Kushagra Goyal, Vice President of the UNHRC,and has an experience of about 15 MUNs, did an excellent job as the speaker and the orientation sessions helped the candidates with their research for any MUN's to follow and essentially gave all attendees basic knowledge of an MUN. They could then, participate in upcoming conferences and SSLA Summit 2019 which was to be held on 21st and 22nd of September and represent SICSR.This was open for all as the primary objective of the club is to promote public speaking among students.
Participants understanding and preparing for their MUN sessions.
Gender Sensitisation for Staff
Ms. Renuka Kadam, independent consultant and trainer on gender issues, POSH – Prevention of Sexual Harassment at workplace, conducted a session for the staff, on August 14, 2019. The expert touched upon various aspects of gender sensitisation. The session was interactive and Ms. Kadam answered all the questions that came from the audience.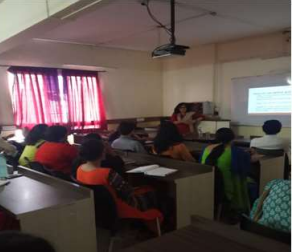 Gender Sensitisation for Students
Ms. Renuka Kadam, independent consultant and trainer on gender issues, POSH – Prevention of Sexual Harassment at workplace, sensitised students on gender related issues during the common induction programme, on July 9, 2019.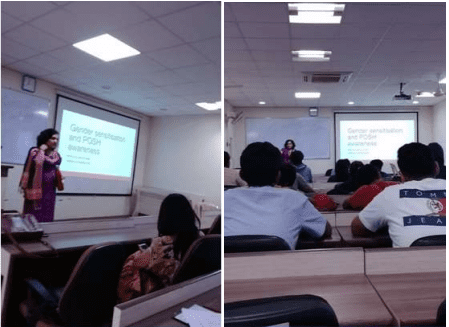 Constitution Day Celebration
Constitution Day (National Law Day), also known as Samvidhan Divas was celebrated at the institute to create awareness about our constitution among the students. We also conducted a extempore competition named BLOCK AND TACKLE with some rules during the event with 12 participants and audience of around 50 students. Some students also delivered speech and poems at the same time. The topics given to the students covered the constitutional articles. It was great to see the participants debating about some of the contradictory decisions taken by the government and finally getting into conclusions in their own unique way. The students as well as the teachers attended the event enthusiastically.
Women's Day Celebration 2017
SICSR celebrated International Women's Day on March 8, 2017. The contribution of women employees was acknowledged by the institute. The employees actively participated in games and winners were also announced.