SICSR Director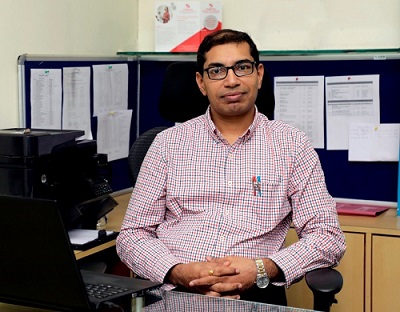 Prof. Dr. Jatinderkumar R. Saini
PhD (Computer Sci.), MCA [Univ. 1st rank & Gold Medals in all 3 years], BSc (Computer Sci.) [Silver Medal],
FIETE, MISTE, MISG, MISCA, MISRS,
Joint Secretary and Executive Committee Member, ISRS, Pune Chapter (2021-2023)
Joint Treasurer & Executive Committee Member, IETE, Vadodara Chapter (2016-18),
Joint Secretary & Webmaster & Executive Committee Member, ISG, Vadodara Chapter (2014-2019),
Managing Committee Member, CSI, Vadodara Chapter (2016-17),
IBM Certified Database Associate – DB2, IBM Certified Associate Developer – RAD, BULATS Certified [CEFR/ALTE C1/4], CPT Certified [CEFR/ALTE C1/4], LASSIB White Belt Certified
A distinguished and established academician, researcher and administrator, Prof. Dr. Jatinderkumar R. Saini was awarded PhD in Computer Science in 2009. He has nearly 250 research publications including those published by Hindawi, Elsevier, Taylor & Francis, ACM, Springer, IEEE and InderScience. He has papers with high Thomson Reuters Impact Factor journals, more than 100 Scopus indexed published/in-press papers, more than 60 Web of Science indexed published/in-press papers and best paper awards by AICTE, IEEE, ISTE, etc. With 1400+ citations, h-index of 20 and i10 index of 47, his papers have been cited in 50+ countries by publications included in Elsevier, ACM, Springer, IEEE, Sage, Wiley, ACL, IET, IOS Press, World Scientific, Palgrave Macmillan, IOP Publications, PubMed, etc. including by world's topnotch as well as 1st ranked International Journals with very high Thomson Reuters Impact Factors.
Dr. Saini has reviewed for esteemed and high Thomson Reuters Impact Factor journals published by Elsevier, ACM, IEEE, Springer, Frontiers, MDPI,Emerald, World Scientific, De Gruyter, IGI, ActaPress and InderScience, to name a few. He is also acting as an editorial board member for journals with high Thomson Reuters Impact Factors. Additionally, he has also reviewed papers and chaired sessions for various conferences, both in and outside India. He has been awarded four times with outstanding reviewer certificate by Thomson Reuters Impact Factor bearing International Journal. Dr. Saini has been named among top 1% (and also in top 50) Computer Science reviewers in the world by Thomson Reuters continuously for two years, i.e, 2018 and 2019. 11 candidates have been awarded PhD and 7 more are currently pursuing their doctoral research work under his guidance. He is working as a Co-Principal Investigator in ISRO, Ahmedabad sponsored research project worth approx. 1 million INR. He is a recipient of prestigious DAAD fellowship. He has visited in various universities in Asia and Europe.
Prior to joining SICSR, Dr. Saini was working as a State Government University endorsed Professor and Director. His vast experience comprises of working also as Head of Department, University Coordinator, Director of AB Innovation Sankul and Zonal Exam Coordinator for entire South Gujarat under the State government's Gujarat Technological University, Ahmedabad. In the year 2005, he secured first position in the written test and later in the interview too at State level and had a distinct opportunity of working with Gujarat Secretariat, Gandhinagar for the ambitious e-governance project of Govt. of Gujarat as well as the privilege of working at one of the only four licensed certifying authorities under Ministry of Information Technology, Govt. of India.
Dr. Saini is included in the Marquis Who's Who in the World, USA since 2012. His lectures have been live broadcasted at national level and available online as part of NCTEL too. He has completed 50+ international MOOC certifications, almost all with distinction, through various universities like Massachusetts Institute of Technology (MIT), University of Texas at Austin, Stanford University, Rice University, Johns Hopkins University, The Pennsylvania State University, Case Western Reserve University, The Ohio State University, University of Rochester, to name a few.