TECHNICAL EVENTS
Meta Spark AR Workshop
The innovation cell and the e-cell at the institute arranged an online workshop for the students on July 16, 2022. This workshop was organised as part of our collaboration with Reskill. The speaker introduced students to MetaSpark AR. Students submitted their AR effects after the session.
GitHub Hands on Workshop
As part of our collaboration with GitHub and IncubateIND, a hands-on GitHub workshop and a two-day hackathon was organized from June 2, 2021 to June 4, 2021. The workshop was conducted by Mr. Kaushik Roy, Principal Architect, IncubateIND.
Participation of our students in a VIC organised by University of Veracruz, Mexico
Twelve students from MBA-IT participated in a One Month VIC & received participation certificates.

Students had an excellent cultural and technical learning experience with their Mexican counterparts.
 Some students shared the feedback as follows:
(a) Richa Manglani, SIU, India: "Overall it was a great experience for me. I am glad SICSR gave me this opportunity to collaborate with international people. This gave me a lot of knowledge about how IOT is used in Oil Industry."
(b) Shivam Sharma, SIU, India: "It was a great experience of collaboration with the Mexico group mates. This is a great and innovative concept which we can adopt in real time. From this VIC I learnt so many new things about IoT related to oil and gas, companies in this domain can digitize, optimize and automate their processes. Apart from that, the asset tracking solutions and predictive maintenance can provide the O&G industry with a competitive edge in the global marketplace."
(c) Ojas Pawaskar, SIU, India: "The entire process from start to ending was truly an enriching experience for me. The ability to virtually collaborate with people halfway across the world and learn new things and even befriend people in the process was amazing."
Business Analyst Role in Agile and its scope
Symbiosis Institute of Computer Studies & Research regularly organizes guest sessions for enhancing the knowledge and developing the personality of students. It aims in providing industry insights to the students and providing them industry exposure.
One such session was organized on "Business Analyst Role in Agile and its scope" on 27 March 2021 for students of MBA-IT
The guest session was conducted by our Alumna Ms. Shatakshi Swaroop.
Techniques on how to write a structured report for businesses by giving various examples and providing step by step personal insights on how to structure a report for a business use
Our alumnus Deekshit Sooryadevara conducted a session on "Techniques on how to write a structured report for businesses by giving various examples and providing step by step personal insights on how to structure a report for a business use".
He explained about the industrial functioning and requirements and also the structuring techniques around the hyper-local markets in the next 5 years.
Emerging Technologies and Data Science & Analytics.
A guest lecture was conducted by Ms. Atiya Hassan on Technology trends and insights.
Atiya is an alumni of SICSR, BCA batch 2013-2016, and the consistent topper for three years.
She explained nicely how the technologies are emerging and how they are used in the industry. The main focus was on the field of Data Science and Data analytics, along with the currently used tools. She also shared her journey and experience in KPMG and that how she transformed herself from a Data Analyst to working with a project team for automation tasks. It was a great session conducted by her. The session was interactive and students cleared their doubts related to skillsets they should be equipped with to enter into analytics field.
Resume Building Workshop by IEEE SICSR Pune Student Branch
IEEE SICSR Pune Student Branch organised a workshop on Resume Building on 21st February 2021.
This session helped students to:
1. gain attention from the recruiter and stand out in the crowd
2. highlight their accomplishments
3. communicate their skills, experience and qualifications
4. get their first interview right.
IEEE WIE E-Symposium 2020
IEEE WOMEN IN ENGINEERING E-SYMPOSIUM 2020
Date:20th-21st November 2020
Time: 4.30 PM to 8.30 PM (IST)
Women in Engineering Affinity Group of IEEE Pune Section with IEEE Madras Section and Women in Engineering Affinity Groups of the following IEEE Student Branches:
1. Symbiosis Institute of Computer Studies and Research (SICSR), Pune, STB11434
2. Pimpri Chinchwad College of Engineering (PCCOE), Pune, STB62941
3. G H Raisoni College of Engineering and Management (GHRCEMP) Pune, STB10027
4. Hope Foundations, International Institute of Information Technology (I²IT), Pune, STB62831
5. JSPM's Rajarshi Shahu College of Engineering (RSCOE), Pune, STB63141
The main motto of the symposium was the Returning Mothers and to bring back women scientists and engineers to re-join the workforce. The symposium provided an opportunity to explore the creative side and find a way to start their own venture. The two days of the symposium also provided a path for learning new technologies and to develop the required skills. This gathering created an interface to get hired by industry who were willing and to start their own venture. In short, the symposium was a highly interactive platform that aimed to build a collaborative community of women in technology to Innovate, Empower, Inspire and Engage.
Dr.Rajashree Jain Professor SICSR and Mentor IEEE WIE, Pune welcomed the audience and mentioned the significance of the event.
About 25 speakers of international repute inspired the audience and more 100 delegates from across the country benefitted from the symposium.
IEEE computer Society, WE Power and world Bank Energy and Extractives group were event sponsors.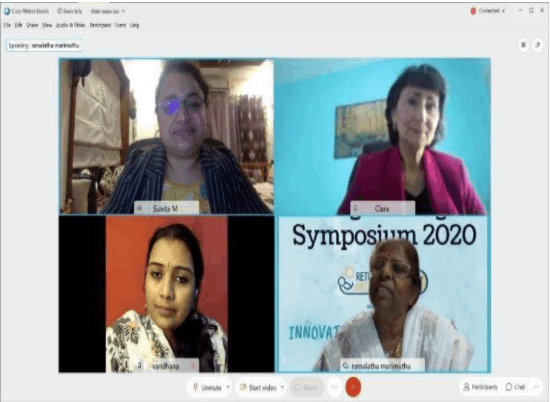 ACM Events
The creative and inventive environment of Symbiosis International (Deemed University) has nurtured our thought process to guide the students for various competitions and industry interactions. SICSR ACM student chapters and SICSR ISACA student chapter have started their journey, inspired by these thoughts. These chapters have directed the students for effective utilization of time during the lockdown period. With the major objective to keep the students engaged and motivated during this lock down period, the SICSR student chapters have taken initiative to arrange various competitions and webinars.
a. The first competition (Project Euler) started on March 30th 2020 and ended on 19th May 2020. In this, students have participated and developed the solution for various problem statements randomly delivered by Project Euler for 50 days. The submission repository was GitHub. The event witnessed 114 commits, making SICSR ACM chapter one of the most active repositories on GitHub. Himani Dalal received a Certificate of Appreciation.
b. How to use GitHub repository for Push and Pull request for project codes; a webinar for the same by SICSR ACM student chapters was delivered on 9 April 2020. The number of participants was 35.
c. In order to nurture the secure coding practices among the students while working on the projects, a webinar series of Secure Coding Practices was conducted in 3 parts by the SICSR ACM and ISACA student chapters (Variable declarations, loops, and Secure practices during coding have covered in these webinars). The respective dates were 30th April 2020, 14th May 2020 and 31st May 2020 and the number of participants was 36.
d. To promote the coding practices among the SICSR girl students, SICSR ACM student chapters have conducted virtual hackathon on 29th and 30th May 2020. The hackathon platform was HackerRank (www.hackerrank.com). The total number of participants was 80. There were three rounds. Out of 80 participants, twelve participants were eligible for the third round. Our student Himani Dalal has reached the third round and received a participation certificate.
e. To guide the students for respective technological market requirement, SICSR ACM student chapters and SICSR ISACA student chapter have jointly conducted the webinar series on Data Visualization (3rd May 2020) ,System Design (9th May 2020), Forensics and Career Opportunities (16th May 2020), Text Mining ( 23rd May 2020), OWASP Vulnerabilities (23rd May 2020).
Hour of Code by SICSR ACM Chapter was held on 9th December 2019. The students of Symbiosis Institute Of Computer Studies and Research went to Hutatma Rajguru School, which is a school for underprivileged children to teach the students studying in grades 5th to 8th, the basic concepts of computing through games and fun learning activities.
Photos:
4th ACM-W National Hackathon by ACM India was held at SICSR on 16th-17th Nov'2019. The event was sponsored by ORACLE academy and Tata Consultancy Services (TCS).
IoT and Cloud Computing
Women in Engineering Student Branch Affinity Group Inauguration and session on IoT and Cloud Computing was held on 24th August 2019.
Sky Computing
A value added course on Sky Computing was conducted for the undergraduate students from 15th February 2019 to 30th March 2019.
Hour of Code by SICSR ACM Chapter
Hour of Code by SICSR ACM Chapter was held on 6th and 7th December 2018. MSc (CA) and BCA students of Symbiosis Institute of Computer Studies and Research approached two different schools to explain computing concepts to the students studying in grades 6, 7, 8 and 9.
Workshop on Git
A one day workshop on Git was conducted on 24th November 2018 for the students of BCA Semester V students. This workshop has conducted in association with RedHat, Pune.
Grace Hopper Mentoring Session for Female Students
A Mentoring Session was organized for all students and willing aspirants of  Grace Hopper Celebration, 2019 (Orlando as well as Bangalore), on February 26, 2019. This session was also joined by outstation students virtually through Facebook and Instagram Live. The event commenced with the introduction and felicitation of all the guests followed by Mrs. Sushma Joshi talk on Grace Hopper Celebration after which the moderator Mrs. Pallavi Singh started the discussion with questions. All the mentors discussed and clarified the doubts of the audience. Lastly, an ex-SICSR student Ms. Meenakshi Dhanani, an attendee at Grace Hopper Celebration 2017, shared her experience in the three day conference and how it inspired her to contribute towards the growth of the underrepresented groups in Information Technology and achieve her job today.